Board of Adjustments


About your Board
Date & Time: Scheduled As Needed
The Board of Adjustments convenes at the request of citizens who wish to apply for either a Conditional Use Permit or Variance in regards to Zoning regulations. An example of a Conditional Use Permit would be a home owner who would like to open a hair salon at their residence. Since their residence would be located within a R-1 Zoning District (single-family structures only), they would have to apply for Conditional Use of their property since hair salons are only supposed to be located within Commercial Districts. The Board of Adjustments reviews the homeowners request and either approves or denies their request.

Board Members
The Board of Adjustments is comprised of individuals who live within Pulaski County and have a background in Planning & Zoning, Building Code or Government itself. Currently there are five members of the Board of Adjustments with the City Administrator acting in as ex officio member of the Board. If you are interested in serving on the Board of Adjustments you can find out more information on applying here.
Chairman Mike Dunbar

Mike Dunbar and his family moved to Waynesville in 1987 after serving four years as a Staff Judge Advocate Officer in the Army, here at Fort Leonard Wood. Mr. Dunbar practiced law for fifteen years before joining and then becoming the President/CEO of Security Bank of Pulaski County in 2006.

A strong supporter and active member of our community, Mr. Dunbar has served on several Boards and Commissions in Pulaski County and the State of Missouri to include the Waynesville/Saint Robert Chamber of Commerce, serving as President of the Chamber from 2012-2014, the Board of Directors of the Leonard Wood Institue, the Missouri Military Preparedness and Enhancement Commission and was awarded the Lieutenant Governor's Veterans Service Award in 2014.

Mr. Dunbar brings a lifetime worth of knowledge and experience to the Board and the City appreciates his commitment and willingness to serve his Community.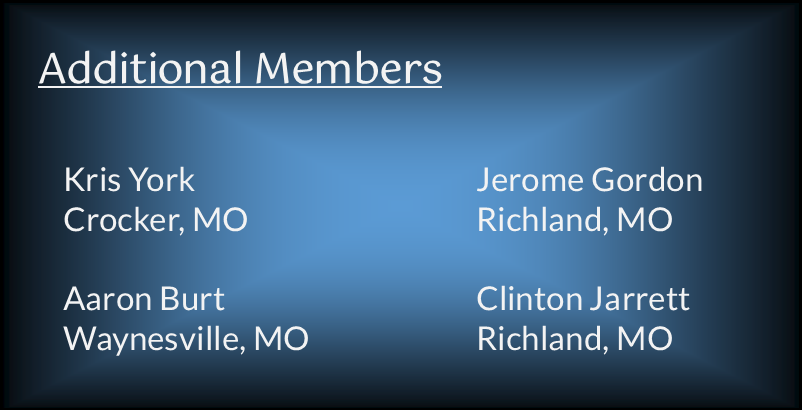 Board Information and Documents
Meeting Agenda and Packet Information, along with prior minutes of past meetings can be found in the documents section below.
Also, any current requests that are being discussed at this time and any recent determinations that has been handed down by the Board can be found here as well.
Relevant Documents
Board of Adjustments

Agendas and Meeting Handouts