Budget Billing

What is Budget Billing:
| | |
| --- | --- |
| | Depending on the time of year, weather can cause your electric usage to change drastically and in turn, affect your utility bill. For most customers, the highest bills are in the middle of summer, when you are using air conditioning to cool your home and during the coldest winter months, when you turn up the thermostat, to keep warm. With Budget Billing, you'll pay roughly the same amount year-round. Budget Billing is not a discount program, but it allows you to better manage your monthly budget by keeping your energy costs predictable and managable. Some months you will pay less than your actual bill and some months you will pay more to make up that difference, keeping your bills more consistent. |

How it Works
The first step is to determine your eligibility. Applicants with at least one (1) year of continual service and good pay history will qualify for the program. Next we calculate your average monthly bill over the last year. This is done by simply dividing your total electric bills for the last twelve (12) months by 12 and rounding that amount to the nearest dollar. This give us your Budget Billing Amount.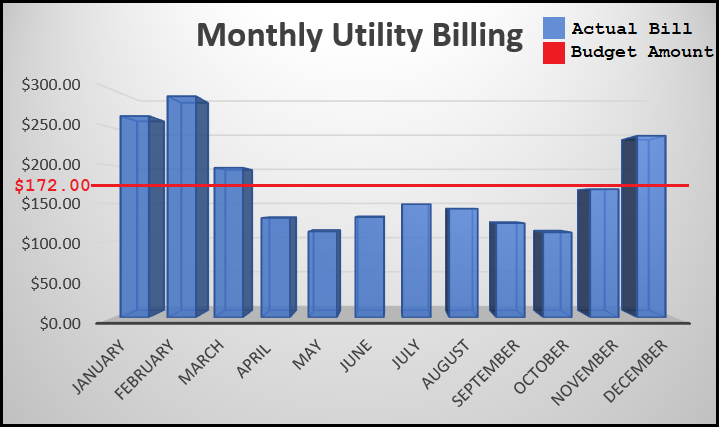 Since the new Budget Billing cycle begins in December, don't panic if you see you are behind the first couple of months into the new cycle. As you can see in the example above, the $172.00 Budget Billing amount is not going to be enough to cover a $270.00 bill. The remaining $98.00 bill is carried over to the next month. Your Utility bills will start to look something like this: Budget Billing Example. As you can see from the example we've supplied, keeping track of your monthly bill, even on Budget Billing, can really pay off in the end.
As we stated before, this is not a discount program. You will still need to keep an eye on your monthly bill to make sure the Budget Billing amount will be enough for you to end up even at the end of the year.

Look Forward to Fall
Budget Billing applications will be available towards the 1st of October, every year. Be sure to check back here in order to download the application. Once applications are received and processed, bill amounts will be uploaded and be due on the 15th of December. If you have any questions, you can contact the Utility Department here.